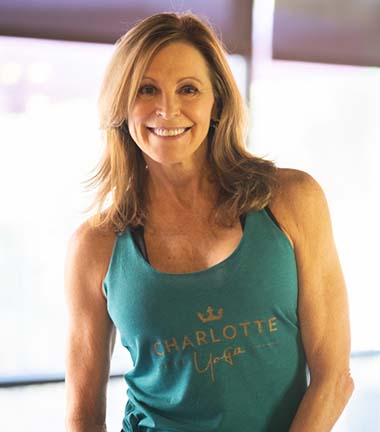 Terrie Reeves - Yoga Instructor
Terrie has personal trained athletes of all types for over 20 years and believes yoga is one of the most powerful and healing forms of movement. She is Yoga Alliance Certified with over 3,000 teaching hours, is a three time National Aerobics Champion, was invited to the White House to help launch the inaugural National Fitness Day with Arnold Schwarzenegger, and has produced over 7 National Fitness videos, one with legendary boxer, Sugar Ray Leonard.
She is a pioneer in the world of wellness, founding Wellness Coalition America (WCA) in 2003, a health advocacy company dedicated to promoting total body wellness. She anchored a weekly segment on News 14 for over 5 years called, Train For Life reaching a viewing audience of 2.5 million.
She recently launched Empower Health, America (EHA) in November 2014. EHA is an organization dedicated to helping people make more informed choices regarding their health and total Ideal Being.
Terrie's yoga journey began in 1999, thanks to Grace Morales, one of Charlotte's first yoga teachers. She started practicing Ashtanga in a tiny heated room while listening to David Swenson on tape. A year later she started teaching Hot 26 classes for Grace at Charlotte Yoga. From that moment on, she knew she had found a new passion…teaching yoga. Terrie has a smashup fitness background including, dance, gymnastics, competitive aerobics, martial arts, and has taught about every type of organized exercise class possible, to include providing over two decades of personal training. However, she believes that nothing holds a candle to yoga because in her words, "you can improve your flexibility, strength, balance, posture, body awareness and overall cardiovascular strength but what you will soon realize is there is so much more to yoga." Her love for yoga continues to grow deeper as her practice evolves. Terrie says, "Yoga is teaching me the importance of slowing down, that life is a process, that my best is good enough and that connecting to my breath, my thoughts and my emotions allow me to be more fully present and in doing that I can live a more connected purposeful life." "Yoga is moving meditation to me and I feel grateful every time I get to guide one person or 100 people through a yoga practice. Yoga is a journey of the mind, body and heart. There is no end…just new possibilities every time you roll out your mat."
Teaching style: Balanced, upbeat and tailored to the type of class or person she is teaching. She provides options to advanced yogis to go deeper in their postures while also providing modifications so everyone feels comfortably challenged on their mat. She says, "I love putting together cool music mixes, classes and one-on-one sessions that are designed to challenge the body, open the heart and calm the mind. I teach from my heart and have a sincere desire to help people achieve their personal best on and off the mat."
Terrie reflects on her yoga journey and gives credit to all of the yogis who have influenced her along the way. "I am blessed to be a teacher but value the importance of being a student as well, so I respectfully give credit to the many wonderful teachers that have inspired and influenced me over the years. Grace Morales, Johnna Smith, Suzanne Bergen, Tanner Bazemore, Baron Baptiste, Brian Kest, Shiva Rea and (Kancho) Cameron Shayne. I have learned that in order to continue to grow you must have desire, an open heart and an open mind."
Terrie also does Yoga Therapy sessions at Charlotte Sports Performance center.
Email:
Terrie.trainforlife@gmail.com
Twitter: @TerrieReeves Instagram: @TerrieEReeves Connect with me on LinkedIn Facebook: www.facebook.com/TerrieEReeves Website:
EmpowerHealthAmerica.com
RAISE YOUR VIBRATION & CHANGE YOUR LIFE.
Namaste