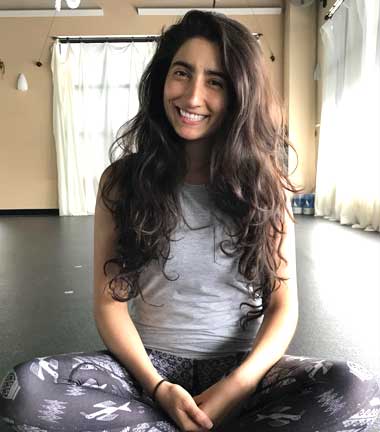 Macarena Gallardo - Yoga Instructor
Macarena tried yoga years ago when she realized that working three jobs and going to school full-time was taking a toll on her mind and body. Living in such a "go go go" society and making it hard to slow down, she developed anxiety and stress.
The thought of taking prescription medicine to overcome the situation was not appealing, and that is when she knew yoga was her answer. She quickly figured out that slowing down wasn't a bad thing and it didn't equate to being lazy. Taking care of her whole self – mind, body and spirit – was now her priority.
Between dance being a major influence in her life and having graduated from college with a degree in psychology, she felt as if her two worlds collided in the best of ways. Yoga was a moving meditation that allowed the movement of the body with the breath and the quietude of the mind to all intersect.
She started off practicing in the Ashtanga lineage, which brought structure to her life. After developing a steady practice, she became certified at the 200-hour level in the spring of 2013. Continuing her education with Hot Asana Yoga University getting certified for Hot Yoga (flow-less sequencing), Hands on Assisting and other trainings with other teachers as Yin Yoga, Restorative, Y12SR (Yoga for 12 Step Recovery) Prenatal/Postpartum Yoga and Yoga for athletes.
She teaches a multi-level class but expect some playful twists, variations and a fun playlist too! Macarena has experience working with children, adults and an elderly population, as well as working with athletes and individuals who have sustained injury. She strongly believes that her classes are for everyone! Modifications are always offered to suit both those who have never stepped on a mat and seasoned practitioners who are looking for a challenge.
RAISE YOUR VIBRATION & CHANGE YOUR LIFE.
Namaste