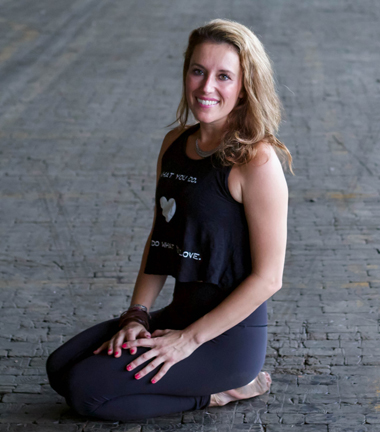 Jennifer Busco - Yoga Instructor
Jennifer found yoga in 2003, confused and overwhelmed about her life's purpose. It only took one yoga class for her to fall in love with the seamless movements and the cadence of the breath. As her practice deepened, her life began to unravel, and yoga gave her the courage to tie it all back together in a more authentic and meaningful way. The power of healing through yoga helped clear the way of the path she knew she wanted to walk…healing others.
Jennifer completed her 500 hour Teacher Training with Stephanie Keach at Asheville Yoga Center. She started teaching at Y2 Yoga and in 2010, cofounded NoDa Yoga and is now full time at Charlotte Yoga. Jennifer is an ambassador for lululemon and is thrilled at the opportunity to serve a wider range audience with other visionaries in her community.
In addition to teaching yoga to the general public, Jennifer is trained in Trauma Sensitive Yoga, a yoga that is a compliment to talk therapy in healing trauma. She has partnered and worked with Thompson's Child & Family Focus, Florence Crittenton, The Keys of the Carolina's, many teens through her own workshops around Charlotte, and one on one healing sessions. Her path of healing people through yoga is continuing to expand since she and Dana Childs have partnered to created Energy Flow Yoga. Energy Flow Yoga combines the dynamic flow of a power yoga class with the healing potential of intentional energy facilitated by an Energy Healer.
Jennifer's intention is to be a part of raising the vibration of Charlotte. Encouraging awareness in people to make choices and create relationships that are for their highest good. Jennifer is living life to the fullest and excited for the future, appreciating that today she is exactly where she needs to be.
RAISE YOUR VIBRATION & CHANGE YOUR LIFE.
Namaste