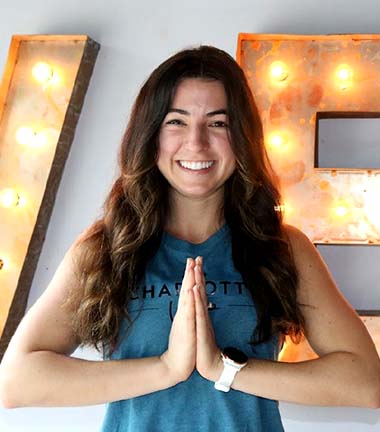 Emily Hassinger - Yoga Instructor
Emily found yoga in 2010 during her freshman year of high school. Her physical therapist recommended it after she struggled with many sports and running related injuries. Her main goal was to become stronger and more flexible, but she gained much more in the process. Emily immediately fell in love with the calming effects of yoga and was amazed how her body responded to the practice.
In her early yoga years, Emily enjoyed taking as many classes as she could at local studios and teaching classes to her friends and family for fun. By the time she attended college, Emily decided that one of her goals was to become a certified yoga teacher to complement her full time Engineering career.
Originally from Ohio, Emily moved to Charlotte in 2020 after completing a Sales Engineering rotation for two years in various states. Once she stopped traveling as much for work due to the pandemic, she decided it was finally time to sign up for teacher training. She was lucky enough to stumble upon Charlotte Yoga's 200 Hour Teacher Training with Suzanne Bergen and Terrie Reeves, which began her teaching journey in 2022.
Outside of yoga, Emily loves taking bootcamp classes, being outside, playing with her dogs, reading, and working on home improvement projects with her husband. To find her weekly teaching schedule and see what she is up to, follow her on Instagram @emhassinger.
RAISE YOUR VIBRATION & CHANGE YOUR LIFE.
Namaste