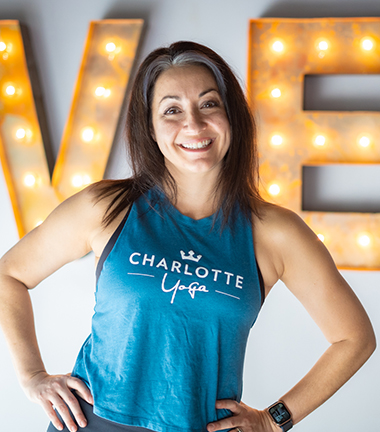 Elle Whitford- Yoga Instructor - Front Desk Extraordinaire
I always thought yoga was just stretching. And then I came to Charlotte Yoga, and realized...it's so much more than that!"
Growing up as a gymnast and cheerleader, Elle has always been active. She moved to Charlotte in 2006 (after growing up in Florida and living in New York for a bit), and it didn't take long for her to make Charlotte Yoga her home studio. You might recognize her face from the front desk, and when the opportunity came up to complete her 200-hour teacher training with Suzanne Bergen and Terrie Reeves in 2020, she couldn't say no.
Off the mat, Elle is another teacher of sorts, and teaches 3rd grade literacy. When not teaching (yoga or elementary school), she loves reading, cooking, Broadway, napping, watching football (Go Bucs!) and competing in fantasy football against her husband.
RAISE YOUR VIBRATION & CHANGE YOUR LIFE.
Namaste